ABOUT THE BOOTCAMP
We guide and educate Agile professionals throughout their development to becoming Agile coaches. As a first step, the coach applies the Agile values, principles and practices. This works best when driven by relevant coaching skills. The Agile coach is an ambassador and role model of the Agile organisation and can drive individuals, teams and management towards the Agile mindset. After the training programme you become part of the Agile coach community. This helps your continuous improvement and learning in your role as advisor for the organisation.
The Agile Coach bootcamp will be organized at the Gladwell Academy headquarters in Amsterdam. The course schedule will be divided into 3 blocks of 1 week each, spread over 3 months. An intense but interesting journey to explore with your fellow groupmembers. To give you some headspace during the week we planned the Wednesday free of training. You can use the Wednesday to work for yourself, using the Spaces workplace facilities, or do some sightseeing around Amsterdam.
Gladwell Academy can arrange your hotel stay throughout the duration of the course. You can easily arrange this when you sign up for the Agile Coach boot camp.
Have a look here for an overview of the schedule and costs.
Goal
Transforming Agile professionals into Agile coaches. During the boot camp you immediately start implementing what you have learnt both within and outside the training context. After the training programme, Agile coaches can start working independently in their role as Agile coach.
Target group
Agile professionals with the ambition to become an independent Agile coach. The Agile professional has at least 1 year of experience in the role of Scrum Master, Product Owner, Agile coach or practical work experience with the Agile principles.
Course overview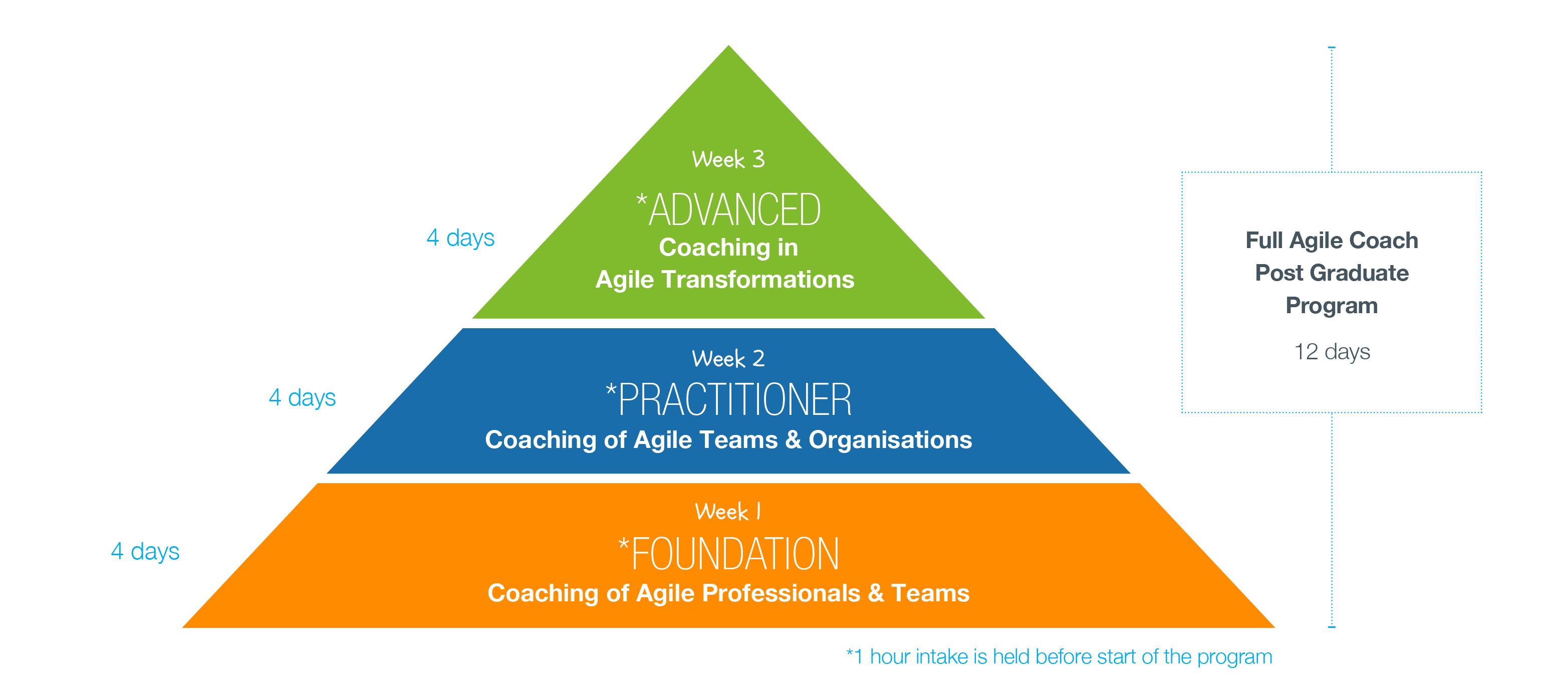 The Agile coaching program takes 12 days, encountering three modules. Another option is to join the practitioner or advanced module on its own, this option is without the post-graduate certification. Throughout all the modules you have the option to bring in the '5x coaching on the job' package.