ABOUT THE COURSE
Drive Innovation in Your Organization – Driving Innovation teaches you how to manage the portfolio of innovations in your organization and how to coach and support innovators in the realization of their ideas.
This three-day course is specifically designed for Innovation Coaches. You will gain an in-depth understanding of the principles of the COIN-framework and learn how to coach innovators to develop an innovative idea into a captivating product. In addition, the course teaches you how to manage the portfolio of ideas in the Innovation Kanban and how to interact with the Continuous Innovation Board to maintain a constant flow of the most valuable ideas. The course covers organizing Pitch-week and Innovation Day and includes coaching skills and workshop facilitation.
Benefits of the training
This course teaches you to develop an innovative idea into a captivating product, service or business model using Lean Startup principles. It also prepares you for the COIN – Innovation Essentials exam, which offers the matching certificate. The training is taught by instructors with real-world experience in innovative product development and roll-out of the COIN-framework.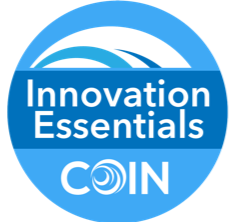 Learning objectives
During this three-day course you will learn to:
Evaluate pitches of innovative idea
Validate ideas using the Business Model Canvas
Coach and support Six Week Innovation Challenges
Organize Pitch-week and Innovation Day
Use innovation metrics and scale-up principles
Set-up and manage the Portfolio KanBan
Support the CIB in prioritization of the innovation portfolio
Manage the innovation budget
Work with the CIB to manage the innovation process
Work with Business Owners to embed innovations
Attendees who pass the exam will receive
A COIN Driving Innovation™certificate
Unlimited certified membership of the COIN Community
Access to COIN online resources
Audience
This course is for professional or aspiring innovation coaches. The course is open to anyone with an interest in innovation, and the aim to work as an Innovation Coach.