ABOUT THE COURSE
Link innovation to strategy - This two-day course is specifically designed for members of the Continuous Innovation Board and Innovation Coaches to drive strategic prioritization of innovations and act as ambassadors of change.
The focus of this training is on the top-level of the COIN-framework. It addresses value-centric thinking in innovation, strategic planning (tech-drivers, market opportunities & threats) and the prioritization process. It addresses specific attention to scaling and embedding of innovations and the role of the CIB as ambassador of change. Furthermore, it covers lean budgeting and alignment of innovation with organizational change.
Benefits of the training
This course teaches you to develop an innovative idea into a captivating product, service or business model using Lean Startup principles. It also prepares you for the COIN – Innovation Essentials exam, which offers the matching certificate. The training is taught by instructors with real-world experience in innovative product development and roll-out of the COIN-framework.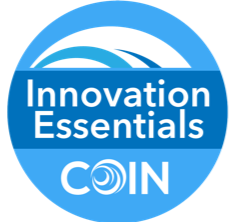 Learning objectives
During this two-day course you will learn to:
Link innovation to strategy
Work with the innovation coaches to manage the innovation process
Prioritize the innovation portfolio
Understand how Lean Budgeting drives the speed of innovation
Use innovation metrics to effectively scale-up innovations
Integrate innovations into an existing change-portfolio
Work with Business Owners to embed innovations
How to use Agile principles to accommodate organizational change
Attendees who pass the exam will receive
A COIN Innovation Strategy™certificate
Unlimited certified membership of the COIN Community
Access to COIN online resources
Audience
This course is for innovation coaches, senior managers and members of the Continuous Innovation Board in particular. In addition, this course is relevant for Business Owners, such as line managers, department managers, Product Owners and Agile Epic Owners.