Implementing SAFe Atlanta
---
4-day Implementing SAFe program training course
4-day Implementing SAFe training course
During this four-day course, attendees will learn how to lead a Lean-Agile transformation by leveraging the practices and principles of the Scaled Agile Framework (SAFe). Attendees will also gain insights and practice how to coach programs, launch Agile Release Trains, build a Continuous Delivery Pipeline with DevOps culture, and empower a Lean Portfolio. The first two days of the course—Leading SAFe—will provide them with the basis to teach SAFe to leaders. The final two days focus exclusively on what it takes to successfully implement SAFe in the enterprise.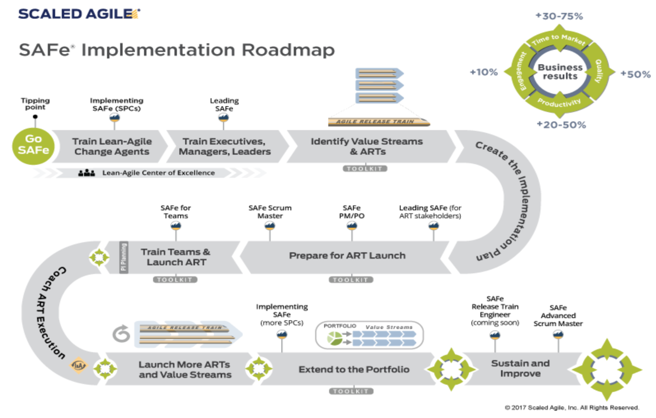 Learnings
Lead an enterprise Lean-Agile transformation and implement the Scaled Agile Framework (SAFe) and empower with a Lean Portfolio
Launch and support Agile Release Trains, and coordinate Large Solutions
Build and execute an implementation rollout strategy and train managers and executives in Leading SAFee
Certification
Attending the class prepares individuals to take the exam and become a Certified SAFe Program Consultant (SPC)
---
Leading SAFe – Days 1 and 2
Introducing the Scaled Agile Framework (SAFe)
Embracing a Lean-Agile Mindset
Understanding SAFe Principles
Creating High-Performing Teams and Programs
Experiencing Program Increment (PI) Planning
Exploring, Executing, and Releasing Value
Leading a Lean-Agile Enterprise
Empowering a Lean Portfolio
Building Large Solutions
Implementing SAFe – Days 3 and 4
Reaching the SAFe Tipping Point
Designing the Implementation
Launching an ART
Coaching ART Execution
Extending to the Portfolio
Sustaining and Improving
Becoming a SAFe 4 Program Consultant (SPC)
---
Name: SAFe 4 Program Consultant (SPC)
Format: Multiple Choice
Delivery: Web-based (single-browser), closed book, no outside assistance, timed
Access: Candidates can access the exam within the SAFe Community Platform upon completion of the Leading SAFe course
Duration: Once the exam begins, candidates have 120 minutes (1.5 hours) to complete the exam
Number of Questions: 60
Passing Score: 45 out of 60 (75% passing score)
Language – English
Collaboration Proposal
Gladwell Academy and CollabNet VersionOne will organize together an Implementing SAFe (SPC) course at the HQ of CollabNet VersionOne in Atlanta. Both parties will market this course in their own network.
Services and Deliverables
Max # participants 24
Date: October 2019 - To be announced and discussed soon
Daily Deligated Fee p.p.p.d. €25,-- Gladwell Academy
CollabNet VersionOne shall be entitled to the following fees as compensation for undertaking the marketing activities for promotion of Open Enrollment courses: 10% on early bird price (€2.595,--) or normal price which applies one month before start training course (€2.695,--) both prices are including licenses.