This is a tailor-made program for Agile Awareness and Leading SAFe training course:


E-learning

and

Leading SAFe

for Wladimir and

Agile Foundation

for team
Individual


E-learning Scaling Agile Awareness (45 minutes)
Our profile for development of e-learning courses
Gladwell Academy is well-experienced in developing e-learning courses. For example, we recently developed an open enrolment e-learning course in collaboration with Scaled Agile Institute (SAI), the creators of SAFe, and a tailormade inhouse e-learning course for agile awareness at Philips and Etihad Airlines (Emirates).
Watch a sample of our recently launched open enrollment e-learning course 'Awareness Scaling Agile' online: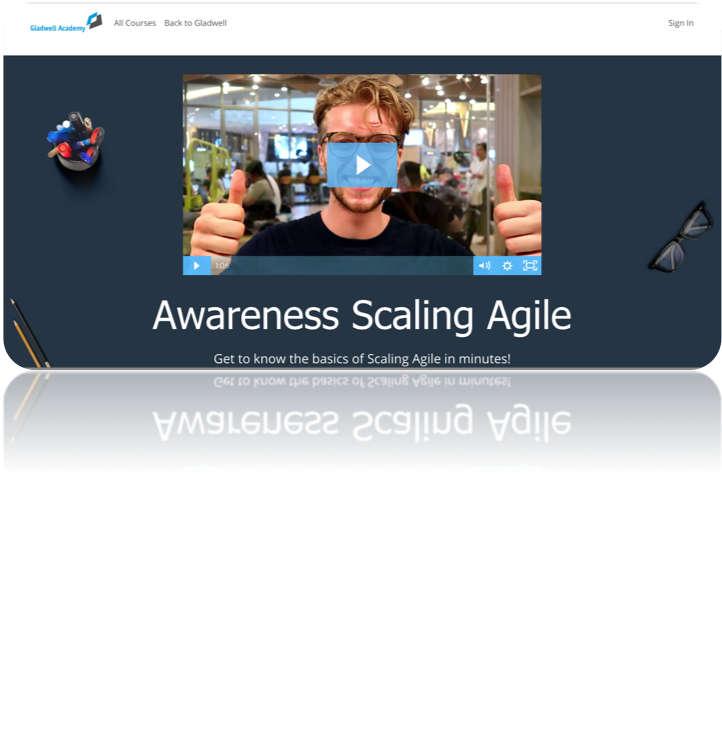 Leading SAFe
This 2-day training course teaches the Lean-Agile principles and practices of the Scaled Agile Framework (SAFe).
The participants will learn how to execute and release value through Agile Release Trains, how to build an Agile Portfolio, and how to lead a Lean-Agile transformation at enterprise scale. The participants will gain an understanding of the Lean-Agile mindset and how to apply the principles and practices of SAFe to support Agile teams, programs, program portfolio management, and to coordinate large Value Streams.
Topics
Introducing the SAFe framework
Embracing the Lean and Agile values
Understanding the SAFe principles
Implementing the Agile Release Train
Experiencing the PI planning
Creating value
Building an Agile Portfolio
Managing an Agile Enterprise
Tips and Tricks for passing the exam SAFe
Learnings
Apply SAFe to scale Lean and Agile development in your enterprise
Support the execution of Agile Release Trains and coordinate large Value Streams and manage a Lean-Agile Portfolio and align the organization to a common process model
Configure the Framework for your context and unlock the intrinsic motivation of knowledge workers and support a Lean-Agile transformation in your enterprise
Details about the exam
Name: SAFe 4 Agilist Exam (SA)
Format: Multiple Choice
Delivery: Web-based (single-browser), closed book, no outside assistance, timed
Access: Candidates can access the exam within the SAFe Community Platform upon completion of the Leading SAFe course
Duration: Once the exam begins, candidates have 90 minutes (1.5 hours) to complete the exam
Number of Questions: 45
Passing Score: 34 out of 45 (76% passing score)
Language – English
Team


Agile Foundation (1 day)
Agile Foundation
Agile methodologies are popular approaches in software development. Scrum
practices, on the other hand, include software development using crossfunctional
and self-managed teams, which produce working code at the end
of each iteration or sprint.


Learnings
Describe Agile methodologies
Discuss Scrum roles, ceremonies and artefacts
Plan and execute Scrum projects
Monitor and track Scrum projects
Understand advanced Scrum topics
Imbibe Agile philosophy and gain in-depth knowledge of Scrum
Effectively apply Scrum in your organization
Topics
What is Agile?
Why Agile works?
The Agile Manifesto
An overview of the main Agile methodologies
What is Scrum?
The roles (Product Owner, Scrum Master, Team)
The rituals (sprint planning, daily stand-up and retrospective)
Preparation (product backlog, user stories, story mapping, definition of done)
Scrum game!

Objectives
Sharply assess the added value of Agile work
The principles of Agile, the division of roles and responsibilities in a Scrum team Handles and points for attention for a successful introduction of Agile in practice
Minimize disruptions and uncertainties through the Agile approachTips and Tricks for passing the exam SAFe