ABOUT THE COURSE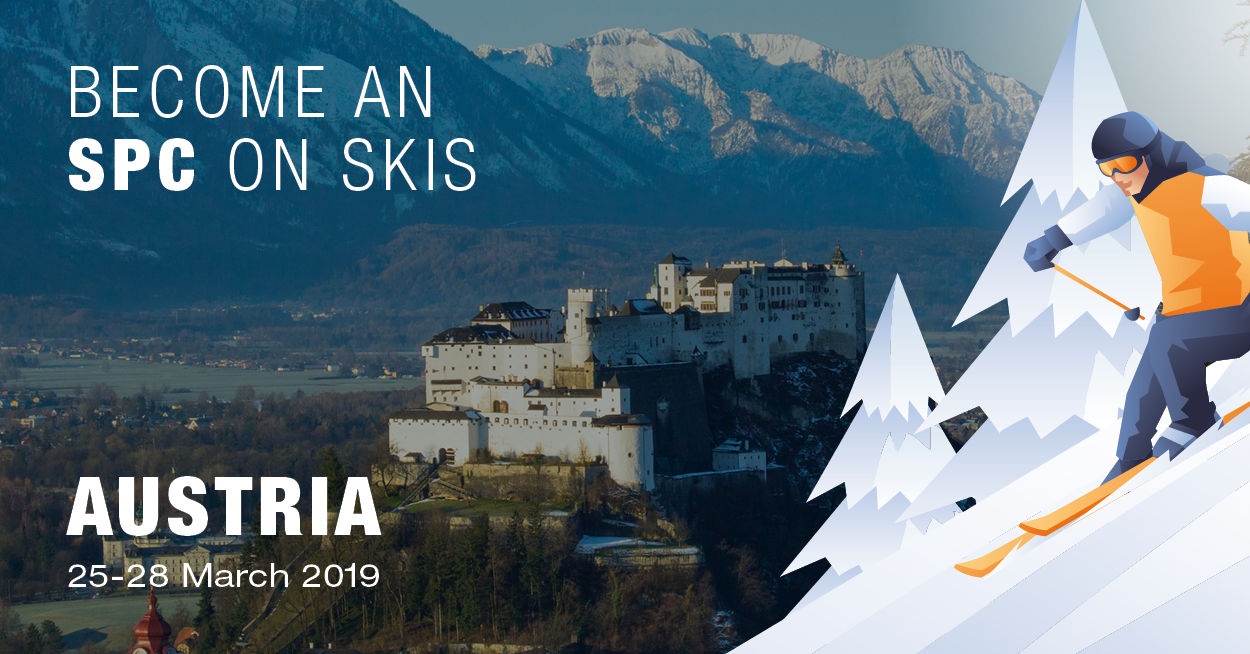 What if you could study to your SPC 4 certificate in the historical city of Salzburg, surrounded by beautiful Alps, learning from the top trainers and other peers from different industries - combining it with a weekend of skiing?
The Winter Edition of SPC course is here! Next March, this course is giving you everything you need to know in order to prepare to your exam for becoming an SAFe Program Consultant. The location of the course is in the historical city of Salzburg, within walking distance from the old town Altstadt. Read more about Salzburg>>
COURSE CONTENTS
Get certified as a SAFe Program Consultant and become the Lean-Agile Change Agent who leads the SAFe Transformation in your enterprise.
Become a leading agent for change—and enable your enterprise to succeed in a disruptive marketplace—when you certify as a SAFe ® 4 Program Consultant (SPC). During this four-day course, you'll learn how to lead a Lean-Agile transformation by leveraging the practices and princ iples of the Scaled Agile Framework® (SAFe®) as well as the five core competencies of the Lean Enterprise.
You will also gain insights and practice how to coach programs, launch Agile Release Trains, build a Continuous Delivery Pipeline with DevOps culture , and build a Lean Portfolio. The first two days of the course—Lea ding SAFe®—will provide you with the basis to teach SAFe to others. The final two days focus exclusively on what it takes to successfully implement SAFe in your enterprise.
During this course you will learn to:
Configure the Framework for a specific enterprise context
Train managers and executives in Leading SAFe®
Act as a SAFe® 4 Lean-Agile Leader (SL) certifying agent
Continue your learning journey and become enabled to train other SAFe roles in the enterprise.
Exam
Exam name – SAFe 4 Program Consultant Exam
Exam format – Multiple choice
Exam delivery – Web-based (single-browser), closed book, no outside assistance, timed
Exam access – Candidates can access the exam within the SAFe Community Platform upon completion of the Implementing SAFe 4.5 course
Exam duration – Once the exam begins, candidates have 120 minutes (2 hours) to complete the exam
Number of questions – 60
Passing score – 45 out of 60 (75% pass rate)
Language – English
Exam cost – First exam attempt is included as part of the course registration fee if the exam is taken within 30 days of course completion. Each retake attempt costs $250.
Retake policy – Second attempt on exam (first retake) can be done immediately after first attempt. Third attempt requires a 10-day wait. Fourth attempt requires a 30-day wait. Contact support@scaledagile.com for any retake questions.
Audience
This course is intended for those who will be materially and directly involved in a SAFe adoption. This includes practitioners, change agents, an d consultants responsible for implementing Agile programs and portfolios as part of an enterprise Lean-Agile change initiative.
Attendees typically include:
Professional Services Consultants
Internal Change Agents, Lean-Agile Center for Excellence, Agile Working Groups
Business and Technology Executives and Leaders, Managers, Directors
Portfolio Managers and Fiduciaries, Project/Program Management Office (PMO) personnel
Development, QA and IT management
Program and Project Managers
Product and Product Line Managers
Process Leads and Lifecycle Governance Personnel
Enterprise, System and Solution Architects